About Massachusetts Septic System Regulations (Title 5)
Homes that are not connected to a local sewer system use septic systems or cesspools, both of which are regulated by the state Department of Environmental Protection (DEP) and local boards of health. Local boards of health are the primary regulatory authorities; however, the DEP is involved in certain approvals.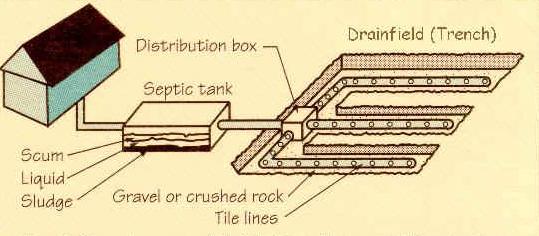 A septic system has a tank, a distribution box, and soil absorption system commonly known as a "leach field" or "leaching field." A cesspool has a pipe carrying waste from the home to a pit that distributes liquid waste.
Improperly functioning septic systems and cesspools are a major cause of the pollution of our coastal waters, rivers, and water supplies. Since 1995, the state environmental code governing septic systems, commonly referred to as Title 5 regulations, has required inspections of septic systems and cesspools prior to a home being sold or enlarged. This inspection also includes a soil evaluation test, which a DEP-approved soil evaluator must perform. In most instances, systems that fail inspection must be repaired within 2 years.
Wherever feasible, a failed system must be upgraded to full compliance with Title 5. If this is not possible, in many instances the local Board of Health is authorized to approve a "Local Upgrade Approval" that brings the system as close to full compliance as possible in accordance with certain minimum criteria. In such cases, homeowners must apply to a local board of health for a variance from Title 5 regulations.
Cesspools that exhibit signs of hydraulic failure, are located extremely close to private or public water supplies, or otherwise fail to protect or pose a threat to public health, safety or the environment will need to be upgraded. Also, cesspools must be upgraded prior to an increase in design flow (i.e., the addition of a bedroom).