Seaport Real Estate Buyer Agent
Christina Contardo also helps homebuyers in the South End, South Boston, Dorchester, and Fenway.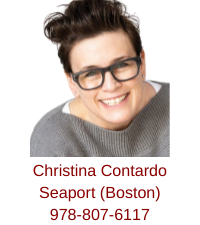 Attorney Christina Contardo is an exclusive buyer agent. She provides real estate buyer agent services in several Boston neighborhoods, including the Seaport District, South End, South Boston, Dorchester, and Fenway, as well as communities north of Boston.
Homebuyers can email, call, or text Christina at 978-807-6117 to schedule a complimentary personal home-buying consultation during a time and location convenient to you.
Christina is a licensed real estate broker in Massachusetts and is a member of the National Association of Exclusive Buyer Agents, National Association of Realtors, Massachusetts Association of Realtors, and the Greater Boston Association of Realtors. Whether you are a first-time homebuyer or a seasoned veteran, Christina is prepared to guide you through a personalized home buying experience.
Christina graduated cum laude with a degree in political science and pre-law from the University of Maine, Orono in 1994 where she participated on scholarship and served as captain for the women's soccer team. She graduated cum laude with a master's degree in counseling psychology from Lesley University in 2007, and she earned her Juris Doctor degree from Massachusetts School of Law in 2009.
With an academic focus on copyright, trademark, and alternative dispute resolution, Christina has worked primarily in the arts, with much of her energy committed to artist representation and large-scale concert production. She has a talent for brand development and business entity establishment across media. Christina is admitted to practice law in the Commonwealth of Massachusetts, and she holds a Massachusetts real estate broker license. She is a licensed insurance producer in the State of New Hampshire.
Christina is a native of Chelmsford, Massachusetts, and she has lived in Brookline, Winchester, and Andover. When she is not creating mixed-material home fixtures and furniture up in New Hampshire's Lakes Region, she enjoys time in the South End and Seaport District exploring menus and cocktails. She is a shameless NFL enthusiast and can be found fixed to the Red Zone during football Sundays. Christina has finished the Boston Marathon three times.
As your zealous home-buying advocate, Christina will respond to your needs and look out for your best interests. She can be reached by email, phone, or text (978-807-6117). Please fill out our home search form to see the latest listings in Boston's Seaport, South End, South Boston, Dorchester, Fenway, and communities north of Boston. If you have a question for Christina, please feel free to use the form below as well.