Easton, MA Buyer Agent
Bruce Murray also helps homebuyers in Stoughton, Avon, Randolph, and Holbrook
Attorney Bruce Murray is an exclusive buyer agent and Realtor, and he provides potential clients with personal consultations in and around the Easton, MA area.
Bruce helps first-time homebuyers and those experienced in purchasing real estate in Easton, Stoughton, Avon, Randolph, and Holbrook, as well as other surrounding cities and towns.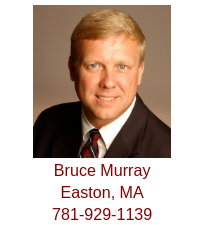 Bruce can be reached by email, or by calling his mobile phone (781-929-1139) in order to schedule a personal homebuyer consultation. Bruce will discuss your home search, explain the home-buying process and answer all your questions. Bruce will meet you in Easton at another location that is more convenient for you.
Bruce is a licensed real estate broker in Massachusetts. He is a member of the National Association of Exclusive Buyer Agents. Bruce also is a Realtor, with membership in the National Association of Realtors, Massachusetts Association of Realtors, and the Greater Boston Association of Realtors.
Bruce is a Massachusetts native and graduated from the University of Rhode Island in 1984. He earned his Juris Doctor degree, cum laude, from New England School of Law, Boston in 1987. In law school, he was the recipient of the American Jurisprudence Award and New England School of Law Scholar Award.
As an attorney, Bruce has represented buyers, sellers, banks and other lenders as the closing attorney in numerous real estate transactions. He is a member of the Massachusetts Bar Association.
Bruce is admitted to practice law in all Massachusetts state courts and the United States District Court for the District of Massachusetts. He has served as a Bar Advocate for the Committee for Public Counsel Services. He has lectured in the areas of trial practice and premises liability for continuing education programs on behalf of the Massachusetts Defense Lawyers Association and for the retail and insurance industries. He has served as a volunteer judge for the Suffolk Law School mock trial tournament and serves as a volunteer conciliator in the Stoughton and Quincy district courts. Bruce was recognized by Massachusetts Lawyers Weekly as having one of the top ten defense verdicts in 2002.
Bruce not only prides himself in being a zealous advocate for his home-buying clients, but also being responsive, efficient, informative, and understanding when it comes to his client's specific needs. He understands that every client has unique and personal wants and needs.
Bruce is a life-long resident of Lexington, Massachusetts. He and his family are involved with the Fresh Air Fund, serving annually as a host family.
Bruce can be reached by email, or by calling his mobile (781-929-1139).