Acton, MA Real Estate Buyer Agent
Attorney Robbie Reutzel also serves homebuyers in Westford, Lexington, Bedford, and Concord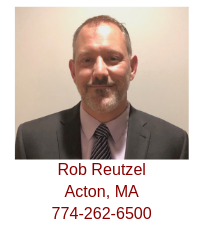 Rob helps first-time home buyers and those experienced in purchasing real estate in Acton, MA, as well as surrounding communities northwest of Boston, including Westford, Lexington, Bedford, and Concord.
You can reach Rob by email, or by calling his mobile phone (774-262-6500) in order to schedule a personal home buyer consultation. Rob, a full-time exclusive buyer agent, will discuss your home search, explain the home-buying process and answer all your questions at a location that is convenient for you. Rob also has experience as a real estate investor.
Rob, a licensed real estate broker in Massachusetts, is a member of the National Association of Exclusive Buyer Agents and the Massachusetts Association of Buyer Agents. He also is a member of the Massachusetts Association of REALTORS, Greater Boston Association of REALTORS and the National Association of REALTORS.
Rob completed his undergraduate studies in Biology at Mary Washington College where he also played lacrosse. He earned his Doctorate in Biochemistry and Molecular Biology at the University of Florida College of Medicine. After graduate school, Rob worked as a Postdoctoral Associate at Brandeis University before becoming a registered patent agent and graduating from Northeastern University School of Law in 2011. Rob brings a wealth of experience litigating and negotiating complex cases and uses that unique experience to help home buyers make wise decisions throughout the home-buying process.
Rob is admitted to practice law in the Commonwealth of Massachusetts and the United States District Court for Massachusetts, as well as before the United States Patent and Trademark Office.
A native of Long Island, New York, Rob now lives in Acton, Massachusetts with his wife and daughter.
As your home-buying advocate, Rob will advocate for your needs and look out for your best interests. He can be reached by email, phone, or text (774-262-6500). Please fill out our home search form to see the latest listings in Acton, Westford, Lexington, Burlington, Concord, and the surrounding cities and towns. If you have a question for Rob, please use the form below.
What Home Buyers Say About Rob Reutzel
Client: Darrell M.
"Fantastic Experience. Buyer Brokers Only gives you a constant, informed stream of analysis and education. My agent, Rob Reutzel was committed to helping me find a home that was right for me. Even when the Covid-19 crisis hit, he found creative ways to keep me safe and land the home I was looking for in a highly competitive area. Five Stars!"
Bought: Single-family in Wakefield, MA