Merrimack Valley Real Estate Buyer Agent
Heidi Blanchet helps homebuyers in Methuen, Dracut, Lowell, Tewksbury, and Southern New Hampshire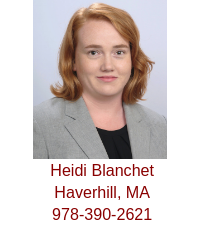 Attorney Heidi Blanchet is an exclusive buyer agent who provides homebuyer representation in the Merrimack Valley, including Methuen, Lowell, Dracut, Tewksbury, and the surrounding cities and towns. Heidi also helps homebuyers in Southern New Hampshire, including Salem, Plaistow, Pelham and surrounding cities and towns.
Homebuyers can email, call, or text (978-390-2621) Heidi to schedule a personal home-buying consultation.
Heidi helps first-time homebuyers and other buyers purchasing real estate in Northern Massachusetts and Southern New Hampshire. She will discuss your home search, explain the home-buying process in detail, and answer all of your questions at a location that is convenient for you.
Heidi is a licensed real estate broker in Massachusetts and New Hampshire, and she is a member of the National Association of Exclusive Buyer Agents. Heidi is also a REALTOR, with memberships in the National Association of REALTORS, Massachusetts Association of REALTORS, the North Shore Association of REALTORS, and the New Hampshire Association of REALTORS.
Heidi grew up in Newburyport, Massachusetts, and attended the Pingree School in South Hamilton. She earned her Bachelor's of Arts, magna cum laude, from the University of Massachusetts Amherst and her Juris Doctor, cum laude, from the Massachusetts School of Law at Andover. As an attorney licensed in Massachusetts, she has worked in the areas of family law, estate planning, and as a Bar Advocate for the Committee for Public Counsel Services.
When she is not helping homebuyers buy real estate, Heidi spends time with her family and Great Danes. She has been a resident of Haverhill for more than ten years and has managed investment properties in the area.
As your advocate, Heidi will be responsive to your home-buying needs. Heidi can be reached by email, phone, or text (978-390-2621). Please fill out our home search form to see the latest listings in Greater Haverhill and the Merrimack Valley. If you have a question for Heidi, please use the form below.
What Home Buyers Say About Heidi Blanchet
Client: Gabriela L.
"Heidi Blanchet was easy to work with, she was quick with communication responses and very knowledgeable at open houses. After our offer was accepted, Heidi recommended great professionals (home inspector and lawyer) to work with during the closing process."
Bought: Single-family Home
Client: Jacob M.
"Heidi explained the whole process to me in a very clear and actionable way. She had detailed breakdowns of the current market and helped me place competitive offers."
Bought: Condominium