Ashland, MA Real Estate Buyer Agent
Patricia DeChristopher also helps homebuyers in Hopkinton, Holliston, Sherborn, and Framingham.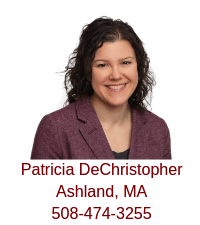 Attorney and Realtor Patricia DeChristopher is an exclusive buyer agent based in Ashland, Massachusetts. Besides Ashland, she provides real estate buyer agent services in Hopkinton, Holliston, Sherborn, Framingham, and the surrounding communities.
Homebuyers can email call, or text (508-474-3255) Patricia to schedule a personal home-buying consultation.
Patricia helps first-time homebuyers and other buyers purchasing real estate in Middlesex County and throughout the Greater Boston area. Patricia will discuss your home search, explain the home-buying process in detail, and patiently answer all of your questions at a time and location that are convenient for you.
Patricia is a licensed real estate broker in Massachusetts and a member of the National Association of Exclusive Buyer Agents. She is also a REALTOR, with memberships in the National Association of REALTORS, Massachusetts Association of REALTORS, and the Greater Boston Association of REALTORS.
Patricia earned her Bachelor's of Science degree in Chemical Engineering from Worcester Polytechnic Institute in 2001. In 2005, she earned her Juris Doctor degree from the University of Colorado School of Law. Patricia is licensed to practice law in Massachusetts and Colorado. After practicing on the areas of property and natural resources law in Colorado for a decade, Patricia found her way back to Massachusetts, where her primary focus has been municipal and land use law.
Patricia currently lives in Ashland with her dog, Bella. She enjoys exploring New England, baking, photography, and travel.
As your home-buying advocate, Patricia will be responsive to your needs and look out for your best interests. She can be reached by email, phone, or text (508-474-3255). Please fill out our home search form to see the latest listings in Ashland, Hopkinton, Holliston, Sherborn, Framingham, and the surrounding cities and towns. If you have a question for Patricia, please use the form below.