Roslindale, MA Buyer Agent
Realtor Josh Fairchild also helps homebuyers in West Roxbury, Jamaica Plain, Hyde Park and Dedham
Attorney Josh Fairchild is an exclusive buyer agent and Realtor, and he provides potential homebuyer clients with personal home-buying consultations in and around Boston.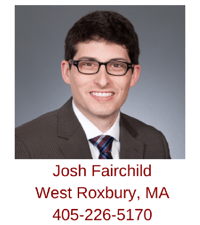 Josh helps first-time homebuyers and those experienced in purchasing real estate in West Roxbury, Jamaica Plain, Roslindale, Hyde Park, and other Boston neighborhoods, as well as Dedham and surrounding cities and towns.
Josh can be reached by email, or by calling his mobile phone (405-226-5170) to schedule a personal homebuyer consultation. Josh will discuss your home search, explain the home-buying process in detail and answer all your questions. Josh will meet you at his Boston office, online, or at a location that is more convenient for you.
Josh is a licensed real estate broker in Massachusetts and a member of the National Association of Exclusive Buyer Agents. Josh also is a Realtor, with membership in the National Association of Realtors, Massachusetts Association of Realtors, and the Greater Boston Association of Realtors.
Josh earned his Bachelor of Arts, magna cum laude, in Political Science from Oklahoma State University in 2005. He graduated from Boston University School of Law in 2013, where he focused his studies on transactional law, including real estate finance. As an attorney, he has worked mostly in the areas of real estate, tax, and business. Josh is licensed to practice law in the Commonwealth of Massachusetts, and before the United States Tax Court in all 50 states.
Josh loves living in the Roslindale neighborhood of Boston, where he is a regular at area farmer's markets and other community events. He spends as much time as possible outdoors in the nearby Arnold Arboretum or Blue Hills Reservation, where he likes to hike with his wife and three young children. When possible, he plans backpacking getaways to the White Mountains in New Hampshire. Josh is now at the halfway mark in his life goal to visit every National Park. Josh is also admittedly a bit of a policy nerd in the areas of transportation and land-use. He serves on the board of TransitMatters, a non-profit Boston area transit advocacy group that he helped co-found.
As a New England transplant, Josh learned first-hand how much more complex the home-buying process can be in the Boston area as compared to other parts of the country. But by immersing himself in the local real estate market, he became an enthusiastic house hunter. As an exclusive buyer agent, he enjoys sharing this enthusiasm with his homebuyer clients, while making sure they are well-informed about the process.
Josh can be reached by email, or by calling his mobile (405-226-5170). You also can use the form below to contact Josh or ask him a real estate question.