MetroWest Buyer Agent
Realtor Jeff Goodwin helps MetroWest and Worcester County home buyers.
Attorney Jeffrey R. Goodwin, an exclusive buyer agent, works from Shrewsbury, Massachusetts.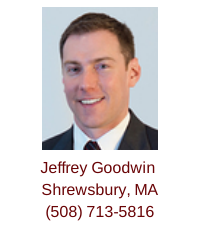 Jeff helps first-time home buyers and those experienced in purchasing real estate in Shrewsbury, Grafton, Westborough, Southborough and surrounding MetroWest Boston, Worcester County, and Central Massachusetts communities.
Jeff can be reached by email, or by calling his mobile (508) 713-5816.
A licensed real estate broker in Massachusetts who only represents home buyers, Jeff is a member of the following real estate organizations:
• National Association of Exclusive Buyer Agents;
• National Association of Realtors;
• Massachusetts Association of Realtors; and
• Worcester Regional Association of Realtors.
Jeff received his Dual Bachelor of Arts in Communication and Legal Studies, cum laude, from the University of Massachusetts-Amherst in 2002. In 2006, he earned his Juris Doctor degree from New England Law | Boston. Jeff is admitted to practice law in the Commonwealth of Massachusetts and the U.S. District Court. Jeff has experience representing home buyers and sellers in residential real estate transactions, and he also has represented clients before the U.S. Bankruptcy Court and various District and Superior courts in the Commonwealth of Massachusetts.
Jeff was born and raised in Worcester and currently resides in Shrewsbury, MA with his wife. Jeff enjoys music, including playing the guitar, bass guitar and singing. He is a member of an all-lawyer band called The Annulments. He also is an avid cross country runner and a die hard Boston sports fan.
Jeff can be reached by email, or by calling his mobile (508) 713-5816. Fill out the form below to ask Jeff a question or to start your home search in MetroWest, Worcester County, or Central Massachusetts community.
What Home Buyers Say About Jeff Goodwin
Client: Ted M.
"Jeff Goodwin worked with us tirelessly for nearly a year, looking at house after house until we found a 'home.' He is extremely competent, and looked out for our interests when real estate agents just wanted to push a sale. His expertise helped us avoid making purchases we would have regretted, managing our excitement with a balanced honesty about potential and obvious problems. Now we have a beautiful home in a lovely area we adore, thanks to his integrity, skill, and overall friendliness over this long haul."
Bought: Single-family in Monson, MA
Client: Ellen B.
"Jeff Goodwin is my idea of the perfect buyer's agent – incredibly knowledgeable, highly responsive, and the epitome of a professional. I was trying to quickly find and purchase a condo in Worcester by long distance (Texas to Massachusetts), and Jeff made it all work more smoothly than I imagined possible. He listened carefully to my search criteria, matched that with plausible properties, provided insightful commentary on neighborhoods and other important factors, and even dealt quickly and sanely with one super-challenging seller. I was only in town for 24 hours, but Jeff managed to get me through the whole process of seeing properties, getting an offer accepted, arranging inspections, hiring a real estate lawyer, and getting all necessary documents signed in that short time. Eighteen days later, I have just closed on an ideal condo and Jeff was invaluable throughout the whole process."
Bought: Condo in Worcester, MA
Client: Mark P. & Devon P.
"Jeff Goodwin from buyers brokers only made our first time buying a home as easy as it gets! Nothing but amazing things to say about him and the entire experience. We've been so busy the past few weeks moving in and getting settled that we haven't had a chance to write this review. We found Jeff through a google search for buyers agents in middlesex county. Jeff was responsive and showed up for us every single weekend for nearly 4 months straight, rain, snow, or shine. He was part of the process from the very beginning all the way through, to the day we closed. I've never seen someone roll up their sleeves the way Jeff did at every home. He never hesitated to whip out a flashlight or climb stairs to get into a sketchy attic — something we really appreciated. He also kept us level headed during the whole process, even when we thought a few homes were 'the one.' Can't recommend Jeff and buyers brokers only enough."
Bought: Single-family in Marlboro, MA
Client: Steve C.
"Jeff Goodwin of Buyers Brokers Only was of tremendous help during my recent condo purchase in Central Massachusetts. I was very particular during my search, and Jeff's professionalism and patience were greatly appreciated. I always felt he was on my side, and offered excellent help/suggestions throughout the process. I could not be happier with the end result, as I found the perfect place. I absolutely would use Jeff again, and would recommend him to anyone."
Bought: Condominium in Upton, MA
Client: Nikhil B.
"Jeffrey Goodwin was our broker for our first house. He is extremely knowledgeable and friendly. Always prompt on reply to our queries. Will give you reminders about your important meetings and dates etc. We strongly recommend him and wish him all the best for bright future."
Bought: Condominium in Hopkinton, MA
Client: Brian P.
"We relocated to the New England area last summer and hired a local Realtor without doing much research and had an unpleasant experience, so we searched a few social media outlets and found Buyers Brokers Only. We worked with Jeff Goodwin who was professional, punctual, knowledgeable, great communicator, and advised us every single step of the way. Although our home buying experience was more complicated than most, Jeff's experience and approach to the home buying process gave us complete confidence that we did not experience with our prior agent. I highly recommend these guys, thanks again Jeff."
Bought: Single-family Home in Westborough, MA
Client: Emma R.
"As a first time home buyer, I needed a lot of guidance during the home buying process. I valued how patient and thorough Jeff was in helping me with the purchase of my new home."
Bought: Single-family Home in Sutton, MA
Client: Christopher A.
"Jeff Goodwin's expertise and professionalism were absolutely outstanding! In addition he was very personable and thorough with helping us understand everything involved with the process. Tremendous customer support coupled with real-time experience! A truly exceptional experience!"
Bought: Single-family Home in Grafton, MA
Client: Michelle K.
"Jeff was there for us when we needed him and was very knowledgeable about real estate and the buying process."
Bought: Single-family Home in Worcester, MA
Meet Shrewsbury, MA Buyer Agent Jeff Goodwin