Peabody, MA Real Estate Buyer Agent
Kate Ham also helps homebuyers in Danvers, Topsfield, Middleton, and Lynnfield.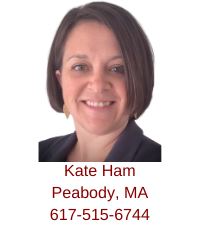 Attorney and Realtor Kate Ham is an exclusive buyer agent based in Peabody, Massachusetts. Besides Peabody, she provides real estate buyer agent services in Danvers, Topsfield, Middleton, Lynnfield, and the surrounding communities.
Homebuyers can email, call, or text Kate at 617-515-6744 to schedule a personal home-buying consultation.
Kate helps first-time homebuyers and other buyers purchasing real estate north of Boston in Essex and Middlesex counties. She will discuss your home search, explain the home-buying process in detail, and patiently answer all of your questions online, over the phone, or at a location that is convenient for you.
Kate is a licensed real estate broker in Massachusetts and a member of the National Association of Exclusive Buyer Agents. She also is a Realtor, with memberships in the National Association of Realtors, Massachusetts Association of Realtors, and the Greater Boston Association of Realtors.
Kate graduated with honors from Northern Vermont University (formerly Lyndon State College) in 2005, with a dual Bachelor of Science degree in business administration and small business management and entrepreneurship. She earned her Juris Doctor degree from New England Law I Boston (formerly New England School of Law) in 2008. She has practiced law in Massachusetts since 2008 and was admitted to the bar of the United States Supreme Court in 2018.
Kate has worked in real estate multiple times throughout the past 15 years – both as an agent as an attorney – and has extensive real estate experience. She has assisted clients with rental properties, commercial leases, purchase and sale agreements, and Kate has performed residential closings for home purchases and refinances and conducted loan modifications for homeowners.
Kate grew up in the Northeast Kingdom of Vermont and has resided in the Boston area for the past 15 years. She currently resides with her family in Peabody, MA. In her spare time, Kate enjoys interior design, kayaking, and spending time with her son, Nathan, and German Shepherd dog, Odie.
As your home-buying advocate, Kate will respond to your needs and look out for your best interests. She can be reached by email, phone, or text (617-515-6744). Please fill out our home search form to see the latest listings in Peabody, Danvers, Lynnfield, Topsfield, Middleton, and the surrounding cities and towns. If you have a question for Kate, please feel free to use the form below as well.