RI and MA Real Estate Buyer Agent
Otto Iglesias helps homebuyers in Southeastern Massachusetts and Rhode Island
Attorney Otto Iglesias is an exclusive buyer agent, and he meets with potential clients and helps homebuyers throughout Rhode Island and in Bristol County, Massachusetts.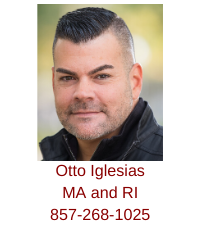 Otto helps first-time homebuyers and those experienced in purchasing real estate in Providence, Portsmouth, Middletown, Barrington, and Newport, Rhode Island, as well as surrounding communities. He also helps homebuyers in Attleboro, North Attleboro, Seekonk, Rehoboth, and Swansea in Massachusetts.
Otto can be reached by email, or by calling his mobile (857) 268-1025. You can also book a call with Otto to discuss your home search and ask any questions you have about the home-buying process.
Otto is a skilled real estate professional and attorney who utilizes his unparalleled work ethic and effervescent personality to assist clients in meeting their real estate needs. Otto has been working in the real estate industry since 2001 and is dedicated to providing the highest caliber of customer service. He is devoted to working tirelessly for each client, ensuring that he is available and committed to finding the perfect property. Additionally, Otto devotes substantial energy to helping clients through the home-buying process. Past clients have remarked on how Otto's attention to detail and skill have actually made a potentially stressful process enjoyable for them.
Otto is a licensed real estate broker in Massachusetts and Rhode Island with membership in the National Association of Exclusive Buyer Agents, National Association of Realtors, Massachusetts Association of Realtors, the Greater Boston Association of Realtors, and Rhode Island Association of Realtors. He is a Notary Public in both Massachusetts and Connecticut.
Otto received a Juris Doctor from Michigan State University College of Law in 1994 and an LL.M. degree in Trial Advocacy from Temple University in 2007. In 2013, he was admitted to the United States District Court for the District of Massachusetts in order to practice at the federal level. Having practiced law in both Massachusetts and Connecticut, Otto has been working closely with people for his entire work life. Early in his career, he was a staff attorney at a non-profit children's organization where he represented the best interest of children.
Fluent in Spanish, Otto was born and raised in Miami, Florida. He currently resides in Portsmouth, Rhode Island and the Back Bay section of Boston. In his spare time, Otto enjoys traveling (he has visited all 7 continents, visited more than 65 countries and has been fortunate enough to see 5 of the 7 wonders of the world), attending concerts, and spending time with friends and family.
Otto can be reached by email, by calling his mobile (857) 268-1025 or booking a call. Fill out the form below to ask Otto a question or to schedule a personal homebuyer consultation regarding your home search in Rhode Island or Southeastern Massachusetts.
What Home Buyers Say About Otto Iglesias
Client: Annette L.
"Yelp reviews prompted the phone call to the agency. Initial contact, and quality of service thereafter, proved the reviews were genuine."
Bought: Condo in Boston (Allston), MA
Client: Alison E. & Nikhil B.
"My husband and I worked with Otto Iglesias at Buyers Brokers Only to buy our first home in East Boston, and we absolutely loved him. Otto guided us through the process as first-time home buyers super patiently. [We] never felt at all pressured to 'settle' for a place we didn't love, and Otto made the experience, which is inherently stressful, actually a lot of fun. Otto was always super quick to respond, really on top of everything, and went way above and beyond for us. He's totally professional. On top of that, he's just a really great guy, funny, and we genuinely enjoyed working with him and getting to know him!"
Bought: Condo in Boston (East Boston), MA
Client: Leon S. & Gloria S.
"We were first-time home buyers, and our broker from BBO (Otto Iglesias) was great. Otto helped us out a lot through the entire process and even went to some Open Houses for us and took pictures and videos since we were living out of town. When it was time to make an offer Otto gave us great advice that most likely saved us some money. During the closing Otto was great and very responsive. He also recommended people to use for the closing, but was never pushy about using who he recommended, and during the entire process he gave us options and let us make our own decisions. We never felt pressured or uncomfortable. I would definitely recommend Otto to anyone looking to purchase a condo or a house."
Bought: Condo in Brookline, MA
Client: Peter V. & Stella V.
"[We valued] Otto's genuine advice, enthusiasm and patience with us."
Bought: Condo in Boston (Dorchester), MA
Client: Miranda N.
"Otto was so helpful throughout the entire process. This was my first home buying experience and he really explained it all to me and would never tire of all my questions. I could not have found anyone who would be more helpful."
Bought: Condo in Boston (South Boston), MA
Client: Michael R. & Deborah R.
"Otto was always attentive and immediately responsive to our inquiries. He was extremely knowledgeable and thorough. We felt our interests were protected during his representation of us."
Bought: Condo in Boston (South End), MA
Client: Jessica M.
"My broker Otto Iglesias was extremely receptive to questions and concerns. His responses were almost immediate. He was very patient with a first-time home buyer with lots of questions. I'm very pleased with the knowledgeable and professional service I received. I would absolutely recommend Otto to my friends and family."
Bought: Single-family Home in Springfield, MA