About The Massachusetts Wetlands Act
The protection of wetlands, rivers, waterfronts and other waterways
Home buyers consider many factors when deciding where to purchase a home, such as highway access, neighborhood setting, public amenities and more, but a home's proximity to wetlands and waterways is often overlooked. In fact, many homeowners are surprised to find out that the home they have owned for years does not simply abut such protected lands, but rather some or all of their property is considered legally protected land.
Unfortunately many homeowners do not realize how important this information is until they run into a roadblock while selling their home or attempting to obtain a building permit.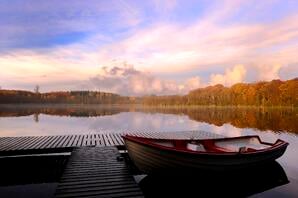 As the national leader in laws that protect wetlands, rivers and waterfronts, Massachusetts has some of the strictest and farthest-reaching regulations in the nation. In order to understand what constitutes legally protected wetlands, riverbanks and other water-related areas, it is important for homebuyers to understand how Massachusetts defines such lands and their regulation.
There are three Massachusetts acts that govern wetland and waterway uses. The first and oldest is the Public Waterfront Act of 1866, which protects local waterways from private, non-water related uses.
The second is the 1963 Wetlands Protection Act, which goes beyond protecting waterways to restrict the use of land that is sometimes submerged in water, such as flood plains, swamps, marshes, et cetera. This act serves to protect private and public water supplies, ground water, shellfish beds, fisheries, and wildlife habitats. It is also purposed to provide flood control and to prevent storm damage and pollution.
The third act, the 1996 Rivers Protection Act, places restrictions on nearly 9,000 miles of Massachusetts riverbanks and surrounding acreage and has been incorporated into the Wetlands Protection Act.
Although these three acts govern the bulk Massachusetts wetlands and waterway uses, there are also local by-laws, which usually add to state's list of restrictions and/or expand the protected area. Most commonly, cities and town have zoning overlays, specifically aquifer protection districts, which protect public water supplies that might otherwise be subjected to contamination.
Protections at the state and local level entail a slew of restrictions with stiff penalties for violators. The state strictly forbids any kind of altering, building, landscaping (even pruning), dumping (even leaves), grading, filling, or clearing of protected wetlands or riverbank areas without a permit. At the local level, towns and cities may expand these protected areas as mentioned above.
In addition local aquifer protection zones may limit the use of septic systems, underground storage tanks and other commonly used fixtures and items that pose a contamination risk to public water supplies. Homeowners who are planning outdoor home improvements that entail any of these activities or items, and whose property abuts or is on protected land, should assume they cannot do anything to their property without a permit from their local conservation commission.
As such these tight restrictions can pose a problem when homeowners seek to alter their home's exterior or its yard. Adding a deck, building a shed, expanding a driveway, or even cutting back bothersome tree limbs may not be allowed. In addition, in order to sell a home situated on or near protected land, some owners may need to move or remove property fixtures such as a shed or fence before their closing in order to be compliant with the state and local conservation laws.
In addition to the possible issues mentioned above, there are other considerations when purchasing a home that abuts or is built on wetlands. Homes located near wetlands may have flooding problems. In addition homes that were built wholly or partially on filled wetlands may face significant, chronic structural problems due to a combination of unfavorable environmental factors and poor construction. Another issue that is often overlooked is the flooding of formerly dry homes that abut new construction developments that are built on wetlands. A soundly constructed, dry home situated next to a new development that has been built wholly or partially on wetlands that were filled in can cause formerly dry homes to have flooding problems due to the lack of places for water to go.
Despite potential problems, land that abuts wetlands and waterways provides benefits that many homebuyers seek such as beautiful scenery and extra privacy. Since Massachusetts has nearly 50,000 acres of wetlands, 9,000 miles of protected riverbank areas and hundreds of protected aquifers, buyers should do their homework.
The Massachusetts Geographic Information System (Mass GIS) provides maps and information about protected areas, and local conservation agents can also provide maps and information regarding protected areas, including more detailed information about which properties are governed by additional local by-laws that might pose further restrictions. Those who plan to buy a home in any city or town that includes wetlands, waterways or aquifers should enlist a real estate professional or attorney to assist in researching whether their potential new home abuts or includes protected land.
The information on this Web site is not legal advice, but for informational purposes only. Please read the full disclaimer.