Bedford, MA Real Estate Buyer Agent
John Lim also helps homebuyers in Concord, Carlisle, Burlington, and Billerica.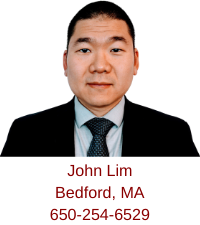 Attorney and Realtor John Lim is an exclusive buyer agent. He provides real estate buyer agent services in Bedford, Burlington, Billerica, Concord, and Carlisle, as well as in the surrounding communities.
Homebuyers can email, call, or text John at 650-254-6529 to schedule a complimentary personal home-buying consultation at a convenient time for you.
John is a licensed real estate broker in Massachusetts and is a member of the National Association of Exclusive Buyer Agents, National Association of Realtors, Massachusetts Association of Realtors, and the Greater Boston Association of Realtors. Whether you are a first-time homebuyer or experienced in purchasing real estate, John is prepared to guide you through a personalized home-buying experience.
John earned a Bachelor of Arts degree in East Asian Languages and Cultures from the University of Kansas, focusing his studies on the languages and cultures of Japan and Korea. In furtherance of his undergraduate studies, he studied abroad at Yonsei University and Korea University in Seoul, South Korea, and he studied at Yamasa Institute in Okazaki, Aichi, Japan. John earned his Juris Doctor from Suffolk University Law School in Boston.
John speaks conversational Japanese and Korean.
As an attorney, John has handled matters in various areas of the law, including real estate law. He has volunteered with the Court Service Centers of the Massachusetts Trial Courts and the Volunteer Lawyers Project of the Boston Bar Association, providing family law legal information and advice to people who cannot afford legal representation.
John is currently pursuing a Bachelor of Science in Computer Science from Regis University. He has a passion for exploring the intersection between law and technology, such as the Accord Project, a non-profit, collaborative, Linux Foundation project developing an ecosystem and open-source tools specifically for smart legal contracts.

John currently resides in Concord, MA with his wife, three children, and two dogs. His hobbies include practicing taekwondo with his youngest daughter, helping her hone her sparring skills, and watching USA Taekwondo, World Taekwondo, and Olympic Taekwondo sparring competitions with his family. He enjoys trying new restaurants and local beers throughout New England, and traveling and discovering new destinations in Canada, Mexico, the Caribbean, Japan, and Korea.
As your dedicated home-buying advocate, John will respond to your needs and look out for your best interests. He can be reached by email, phone, or text (650-254-6529). Please fill out our home search form to see the latest listings in Bedford, Burlington, Billerica, Concord, Carlisle, and surrounding communities. If you have a question for John, please feel free to use the form below if you prefer.