North End Buyer Agent
Dimitrios Makos also helps homebuyers in the West End, East Boston and South Boston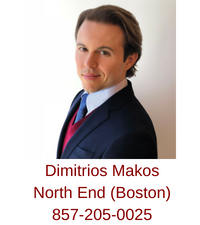 Attorney Dimitrios Makos, an exclusive buyer agent, provides home buyer representation in several Boston neighborhoods, including the North End, East Boston, South Boston, Charlestown, and the West End. He also helps homebuyers in several communities surrounding Boston, including Revere, Chelsea, Winthrop, and Everett.
Dimitrios can be reached using email or by calling his mobile (857-205-0025) to schedule a personal homebuyer consultation. During the consultation, Dimitrios will explain the home-buying process in detail, discuss your home search goals and answer any questions you might have about buying a home in the Boston area and his exclusive buyer agent services.

Dimitrios, a licensed Massachusetts real estate broker, is a member of the National Association of Exclusive Buyer Agents, the Greater Boston Real Estate Board, the Massachusetts Association of REALTORS and the National Association of REALTORS.
Dimitrios graduated from Northeastern University in 2006 and earned his Juris Doctor degree from Suffolk University Law School in 2013. His experience has included positions with two of Boston's largest real estate investment trusts and four of Boston's most respected law firms, focusing on real estate acquisition and other areas of the law.
Dimitrios was born and raised in Maine, and he has lived in Boston since 2001.
In May 2020, Boston25 News interviewed Dimitrios about the Boston real estate market during the coronavirus pandemic.
Dimitrios can be reached using email or by calling his mobile (857-205-0025). Fill out our home search form to see the latest listings in the North End, West End, Charlestown, South Boston, East Boston, as well as surrounding communities including Revere, Winthrop, Chelsea, and Everett. If you have a question, please use the form below.