North End Real Estate Buyer Agent
Dimitrios Makos also helps homebuyers in the West End, East Boston and South Boston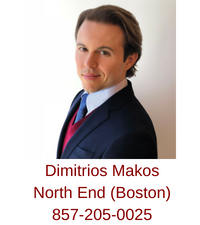 Attorney Dimitrios Makos, an exclusive buyer agent, provides home buyer representation in several Boston neighborhoods, including the North End, East Boston, South Boston, Charlestown, and the West End. He also helps homebuyers in several communities surrounding Boston, including Revere, Chelsea, Winthrop, and Everett.
Dimitrios can be reached using email or by calling his mobile (857-205-0025) to schedule a personal homebuyer consultation. During the consultation, Dimitrios will explain the home-buying process in detail, discuss your home search goals and answer any questions you might have about buying a home in the Boston area and his exclusive buyer agent services.

Dimitrios, a licensed Massachusetts real estate broker, is a member of the National Association of Exclusive Buyer Agents, the Greater Boston Real Estate Board, the Massachusetts Association of REALTORS and the National Association of REALTORS.
Dimitrios graduated from Northeastern University in 2006 and earned his Juris Doctor degree from Suffolk University Law School in 2013. His experience has included positions with two of Boston's largest real estate investment trusts and four of Boston's most respected law firms, focusing on real estate acquisition and other areas of the law.
Dimitrios was born and raised in Maine, and he has lived in Boston since 2001.
In May 2020, Boston25 News interviewed Dimitrios about the Boston real estate market during the coronavirus pandemic.
Dimitrios can be reached using email or by calling his mobile (857-205-0025). Fill out our home search form to see the latest listings in the North End, West End, Charlestown, South Boston, East Boston, as well as surrounding communities including Revere, Winthrop, Chelsea, and Everett. If you have a question, please use the form below.
What Home Buyers Say About Dimitrios Makos
Client: Julia N.
"I have nothing but great things to say about Dimitrios Makos. I was a first time homebuyer, and he was able to provide me clear guidance and was able to walk me through each step of the process. Dimitrios is very knowledgeable, patient and responsive. I bought a new construction condo and dealt with a difficult seller. Dimitrios fought for me throughout the whole process (even after I closed) and ensured that everything was to my satisfaction. Buying a house can be overwhelming but having a professional like Dimitrios on your side [makes] it a lot ... easier. I will definitely be recommending him to anyone who is looking to purchase a new home."
Bought: Condominium in Dorchester, MA
Client: Andrea W. & Joe C.
"We worked with Dimitrios on our condo purchase, and he couldn't have been more helpful! We initially reached out to BBO with an inquiry and got a call back within a few hours. On that call, he covered the process from start to beginning so we'd know what to expect. This is our first home purchase, and Dimitrios was very helpful at every step of the way. Even after we purchased our condo and had a few remaining questions, he was happy to help. If you ever have a question, he responds quickly by text and/or email and if he doesn't have an answer, he'll make sure to get it for you as soon as possible. Great person to work with on your first home purchase."
Bought: Condominium in East Boston, MA
Client: Mae G.
"Dimitrios is the best buyer agent ... I met him through Buyers Brokers Only. He is very patient, knowledgeable, attention to detail, professional, and prompt at responses. Being a first time home buyer, I had a very great experience buying a single-family home with Dimitrios. He helped guide me through everything I needed and helped me negotiate my dream house with the budget I could afford. He helped with a competitive market analysis of the viewing house, giving me choices of a mortgage broker and insurance agents. He was my go-to in everything about buying home. With all of his hard work, I had the best experience ever in buying my dream home. I highly recommend Dimitrios to be your buyer agent."
Bought: Single Family in Quincy, MA
Client: Allie B.
"My experience with Dimitrios was wonderful. He made everything so easy, always quick to respond and kept the ball rolling without making me feel like I was under insane pressure (a real feat, these days). He genuinely wants the process to be as painless as possible, and he succeeded!! I'd absolutely work with him again."
Bought: Condominium in Jamaica Plain, MA