Greater Boston Real Estate Buyer Agent
Realtor Femion Mezini helps homebuyers in Boston, Westwood, Needham, Cambridge, Somerville, and surrounding areas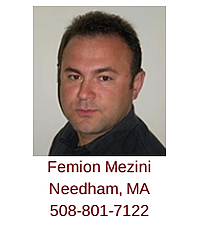 Attorney Femion Mezini provides expert guidance to homebuyers as an exclusive buyer agent, and he also is an experienced developer and investor. A licensed real estate broker in Massachusetts, he is a member of the National Association of Exclusive Buyer Agents, National Association of Realtors, Massachusetts Association of Realtors, and Greater Boston Association of Realtors.
Besides helping a wide range of consumers, from first-time homebuyers to those in the luxury market, Femion also represents investors in the Greater Boston area.
After graduating from college in California, Femion continued his studies at Western New England College School of Law and School of Business. In May of 2006, Femion received his Juris Doctor degree and a Master of Business Administration degree. He was the first student in the school's history to complete the requirements for both graduate degrees in just two and a half years. Femion also earned a Master of Law degree, or LLM, in banking and finance from Boston University School of Law. Femion has gained admission to practice law in the Commonwealth of Massachusetts, the State of New York, and the United States District Court for the District of Massachusetts.
After a short stint as a litigation attorney, Femion joined Buyers Brokers Only, LLC in May 2009. Within the first couple of years with the company, Femion became a top producer. His approach of not selling his clients on a particular property but, instead, helping them make educated decisions has resulted in a growing customer base, including repeat clients and an extensive network of referrals. Femion works diligently to help his clients get the property they want under the best possible terms while making the property-buying process as smooth and stress-free as possible.
Femion had a stellar 2021, helping dozens of clients reach their real estate goals. Individually, Femion exceeded $52 million in gross sales while maintaining his clients' exemplary reviews, making him the number one exclusive buyer broker in the country.
Femion lives in Westwood with his wife, Marsela, children, and Samoyed, Laila.
Femion can be reached using email (femion@gmail.com) or by calling his mobile (508-801-7122). Please fill out the form below to see the latest home listings in Needham, Westwood, Cambridge, Somerville, Newton, Wellesley, Dover, and surrounding Greater Boston communities. You may also sign up directly for your very own free MLS account at Femion's MLS Property Finder website.
What Home Buyers Say About Femion Mezini
Client: Elizabeth B.
"Femion Mezini was fantastic. He was there anytime we needed him. He made us feel like his only clients, little did we know he had 6 other closings in that same month. Anytime we had a question or concern he was there with an answer. I would highly recommend him to anyone looking to buy a home."
Bought: Single-family Home in Milford, MA
Client: Jennifer D.
"I really enjoyed working with Femion. He is knowledgeable, efficient, detail-oriented, resourceful and patient. I especially liked the fact that he is also a lawyer. This was key in my case because I purchased a foreclosed property and was apprehensive at times. I trusted that Femion was looking out for my best interest at all times. I have and will continue to recommend Femion to anyone looking for a realtor."
Bought: Condominium in Ashland, MA
Client: Jodi R.
"Femion Mezini, our agent, was simply phenomenal. We would never have ended up in the dream house we have, with the price and terms we got it for, without his expertise and shrewd negotiation abilities. We really couldn't have been happier with his services - personally and professionally, he made the process fun and stress-free."
Bought: Single-family Home in Dover, MA
Client: Geneva R.
"The service Buyers Brokers Only, LLC provided was truly invaluable to us in finding our first home. We couldn't be happier! And I cannot stress enough how much we appreciate the time [Femion] took to answer our countless questions and [his] continuous fight for us. It is so rare to find a company who cares about their clients, and who will go above and beyond when they don't have to. This service cost us nothing, and yet our experience was priceless!!! I will recommend Buyers Brokers Only, LLC to all of my friends, family, and coworkers wholeheartedly!!"
Bought: Condominium in East Boston, MA
Client: Philip P.
"Femion was friendly, patient, honest, reliable, and very professional in all our dealings. I was confident of his abilities both as a lawyer and a real estate broker. He was a great help throughout the process."
Bought: Single-family Home in Sharon, MA
Client: Amity & Adam K. .
"Femion was a wonderful person to work with. We had a year long search and Femion was eager to get us into the right property. We negotiated on four seperate homes and Femion was attentive and strategic each time. His negotiation and legal advice was above and beyond what you can get from someone who is only a realtor. He made sure our interests were protected in each of the contracts we signed. He also was honest and not afraid to share his opinions, which was very helpful through this stressful process. We are now proud home owners and we could never have gotten here without Femion's help."
Bought: Single-family Home in Roslindale (Boston), MA
Client: Heather & Sacha P.
" It was a pleasure to work with Femion. We really valued his enthusiasm, humor, and professionalism, as he worked with us to help us find a wonderful house. He was always easy to reach, so it was never a problem to schedule a showing or to receive an answer to our (many!) questions. He was a great advocate on our behalf, negotiating the price of the house down further than we would have dared to try ourselves, while keeping relations with the seller cordial. We will be recommending him to our friends. Thanks for everything!"
Bought: Single-family Home in Framingham, MA
Meet Needham, MA Buyer Agent Femion Mezini