Greater Boston Area Buyer Agent
Rich Rosa also serves home buyers throughout Essex, Middlesex, and Suffolk counties
Attorney Richard J. Rosa is the co-founder and co-owner of Buyers Brokers Only, LLC, an exclusive buyer agent real estate firm with offices throughout the Greater Boston area.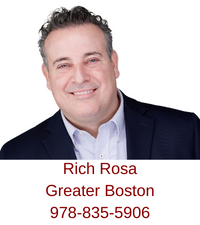 Rich is a licensed real estate broker in Massachusetts and a member of the nonprofit National Association of Exclusive Buyer Agents (NAEBA). He currently serves as NAEBA's president. He also is a member of the North Shore Association of REALTORS®, the Massachusetts Association of REALTORS®, and the National Association of REALTORS®. Rich also served on the Massachusetts Association of Buyer Agents' board of directors, and he was the nonprofit's treasurer for five years.
Rich can be reached by email or mobile phone (978-835-5906) to schedule a free, in-person homebuyer consultation at a time and place convenient for you.
He publishes the Massachusetts Home Buyer Guide, a real estate blog, and formerly published MassForeclosed.com, a Massachusetts foreclosure blog. You may be interested in reading these Merrimack Valley Magazine articles Rich wrote about why you should demand 100 percent loyalty from your real estate agent and the difference between an exclusive buyer agent and a designated buyer agent. Rich genuinely enjoys educating consumers about the home-buying process.
Rich volunteered as an instructor for Massachusetts first-time home buyer classes through BLUE, Inc., a not-for-profit organization that provides homebuyer education, as well as for other home-buying workshops.
Rich has been interviewed for real estate articles and quoted in several local and national publications, including The New York Times, The Boston Globe, Boston Herald, Boston Business Journal, The Eagle-Tribune, Haverhill (MA) Gazette, Boston.com, Merrimack Valley Magazine, and Boston Magazine. He also has written guest posts on The Boston Globe's Boston Real Estate Now blog about procuring cause and landlord-tenant issues. Rich also has appeared numerous times on Boston Herald Radio. NBC10 Boston interviewed Rich in April 2018 about the potential pitfalls of purchasing a "flipped" home.
Rich graduated Cum Laude from Northeastern University's School of Journalism with a Bachelor of Science degree in 1991 and earned his Juris Doctor from New England Law I Boston (formerly New England School of Law) in 1995. He is admitted to practice law in the Commonwealth of Massachusetts and the State of New Hampshire. He also is a member of the New Hampshire Bar Association.
Rich works full-time as a real estate broker from Buyers Brokers Only, LLC's Haverhill, MA office, which is located at 200 Merrimack Street, Suite 301, in historic downtown Haverhill. You also can view Rich's LinkedIn profile and Zillow profile. You can follow him on Twitter too.
Rich grew up in Bridgeport, CT and lived 11 years in Boston before purchasing his home in Haverhill, MA (1997). He lives with his wife, Anne Marie, twin sons, and Chocolate Lab, Bruno. Haverhill voters elected Rich to the Haverhill School Committee in November 2017 and re-elected him in 2021.
Rich has helped homebuyers purchase single-family homes, condominiums, and multi-family properties in many Eastern Massachusetts cities and towns, including Haverhill, MA; Bradford, MA; Boston; Andover, MA; North Andover, MA; Chelmsford, MA; Amesbury, MA; Melrose, MA; Westford, MA; Burlington, MA; Woburn, MA; Wilmington, MA; Winchester, MA; Wakefield, MA; Arlington, MA; Beverly, MA; Somerville, MA, Bedford, MA; Stoneham, MA; Tewksbury, MA; Salisbury, MA; Sudbury, MA; Watertown, MA; and many other communities in and around the Greater Boston Area.
Rich also has helped homebuyers relocate to Massachusetts, including, but not limited to, homebuyers moving from New Jersey, Maryland, Arizona, Colorado, Illinois, California, Virginia, Washington, D.C., and Europe.
What Home Buyers Say About Buyer Agent Rich Rosa
Client: Chris & Sarah M.
"It's clear that Rich Rosa is great at what he does and that he measures success by the number of people he helps along the way. If you're in the market for a new home, we highly recommend that you meet with Rich...you will not be disappointed."
Bought: Single-family Home in Haverhill, MA
Client: Arabela & Sam T.
"Rich was very responsive to all of our requests and incredibly knowledgeable. We really appreciated all of his advice and guidance. He is the best broker a home buyer could ever wish for. We are so grateful to have had him on our side."
Bought: Single-family Home in Andover, MA
Client: Tamara A.
"I was clueless going into the process of buying a home, but needed to move quickly. I worked with Rich Rosa as my buyer's agent. My husband and I knew nothing about buying a home going into this and Rich patiently explained things and gave advice and constantly answered questions. His advice was always dead-on. Rich exemplifies the definition of professionalism. He was very communicative and was right on top of things throughout the entire process of buying our home. We ... closed ... about 45 days after we began our home search and Rich really made it happen. I would recommend him to anyone looking to purchase a home."
Bought: Single-family Home in Wakefield, MA
Client: Jing D.
"Rich, As I am slowly converting this condo into a home, I'd like to take a step back and thank you for being my realtor, lawyer, and all-around homebuying guru. I really appreciate you sticking by me through flooding short sales and a disorganized closing attorney. Your professional and friendly demeanor really made my first time homebuying experience a pleasant (and fun) one! One aspect I'm particularly impressed by is how great of a team you and Dave are - never skipping a beat! I feel very fortunate to have found Buyers Brokers Only and wouldn't hesitate to recommend BBO to anyone. You really went above and beyond. "
Bought: Condominium in Boston (Allston), MA
Client: David T.
"As a first-time homebuyer, I had a lot of questions and concerns. Rich Rosa always answered my questions and addressed my concerns promptly. I would absolutely look to him for my next purchase and have recommended him to my family and friends."
Bought: Condominium in Lexington, MA
Client: Satyen M. & Rajee A.
"When we started looking for a condo, we realized early on the benefits of having a buyers broker represent our interests and clear up the home-buying jargon. We found links to Rich's name on several websites and found favorable reviews. After a brief meeting with Rich, we liked what Rich had to offer in his services and decided to work with Rich. Rich did a fantastic job from start to end. We are thoroughly satisfied with the service provided by Rich Rosa and would recommend his services to any new or existing home buyer."
Bought: Townhouse in Amesbury, MA
Client: Olga G.
"Buying a property is very important purchase and you definitely want to have the right people on your team. That's why i highly recommend you hire Rich Rosa as your agent. Rich brings to the table professionalism, extensive real estate knowledge, straight forward, but very patient approach and stress-reduced purchasing process. Why look further?"
Bought: Condominium in South Boston, MA
Client: Kate M. & Michael M.
"Rich is extremely knowledgeable and guided us through several multiple bid situations and a very tight buyer's market in Burlington, MA. In less than a month, he found us the perfect house and successfully navigated a multiple bid situation on the house we really wanted. He was almost as good as the home inspector at pointing out things about the houses that we never would have noticed. Every person he referred to us for the home inspection, attorney, etc. was professional and worked together to ensure that we had a smooth transaction. We closed a week early with no last-minute issues and are loving our new home. I can't recommend Rich highly enough."
Bought: Single-family House in Burlington, MA
Client: Joe & Kathy L.
"We are very pleased. If you want something done you should use Buyers Brokers Only. Rich Rosa is an outstanding person to deal with. He gets things done. He knows his job and does it well."
Bought: Condominium in Haverhill, MA (Short Sale)
Client: Reve D. & Mark M.
"After dealing with Buyers Brokers and knowing our agent [Rich Rosa] was working for us and only us, I wonder why anyone would consider going without an exclusive buyer's agent."
Bought: Condominium in Winchester, MA (Banked-Owned Property)
Client: Alison & Keith P.
"Rich was recommended to us by friends when we were starting to look for a house (and had no clue how to do so). He tirelessly, for 8+ months, drove hundreds of miles to look at every kind of house imaginable with us. He made house and town recommendations based upon our criteria and helped us make good decisions about those we did look at. He was invaluable when it came time to enter negotiations, and he always did a great job at communicating on our behalf to the sellers. Plus, his expertise kept us from becoming involved in some potentially very messy deals. With his help, we found and purchased our first home. Rich made the home buying process (and our lives) so much easier than had we chosen to undertake it ourselves!"
Bought: Single-family Home in Carlisle, MA
Client: Frank P.
"Rich, I can't thank you enough for all the work and guidance you provided during my search and purchase of my new home. Your expertise in the home-buying process coupled with you being an attorney proved to be an invaluable combination, which gave me a comfortable feeling that you were working for me, and only me, as a buyer. Your price was only the commission split on the sale, which was paid by the seller, not me. I will surely recommend you to family and friends. My advice to anyone buying a home is to forget [other] real estate agents, use the buyer brokers/attorneys at Buyers Brokers Only, LLC. I hope we can do business again in the future."
Bought: Single-family Home in Haverhill, MA
Rich can be reached using email, by calling his mobile (978-835-5906), by filling out our contact form, or by booking a phone call with him. You also can search the entire multiple listing service for free with your own customized MLS account.