Danvers, MA Real Estate Buyer Agent
Craig Singer also helps homebuyers in Peabody, Beverly, Middleton, and Gloucester.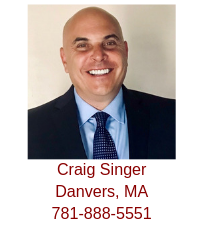 Attorney and Realtor Craig Singer is an exclusive buyer agent based in Danvers, Massachusetts. Besides Danvers, he provides real estate buyer agent services in Peabody, Beverly, Middleton, Gloucester, and the surrounding communities.
Homebuyers can email, call, or text (781-888-5551) Craig to schedule a personal home-buying consultation.
Craig helps first-time homebuyers and other buyers purchasing real estate in Essex County and Eastern Middlesex County. He will discuss your home search, explain the home-buying process in detail, and patiently answer all of your questions at a time and location that are convenient for you.
Craig is a licensed real estate broker in Massachusetts and a member of the National Association of Exclusive Buyer Agents. He is also a REALTOR, with memberships in the National Association of REALTORS, Massachusetts Association of REALTORS, and the North Shore Association of REALTORS.
Craig received his Bachelor's of Arts degree in Communications from the University of Hartford in 1988. After owning his own business for 20 years, Craig decided to pursue a career in law. He received his Juris Doctor degree from the Massachusetts School of Law in 2008. He has been licensed to practice law in the Commonwealth of Massachusetts since 2009.
Craig has lived in Massachusetts his entire life. He grew up in Sharon, and now owns a home in Danvers. Craig is the co-founder of Organic Living Superfoods (now called Healthy Truth) out of Walpole, MA. Although he no longer works at the company, which, among other things, manufactured healthy snacks and protein bars for Tom Brady's TB12 brand, Craig remains a shareholder.
As your home-buying advocate, Craig will advocate for your needs and look out for your best interests. He can be reached by email, phone, or text (781-888-5551). Please fill out our home search form to see the latest listings in Danvers, Peabody, Beverly, Middleton, Gloucester, and the surrounding cities and towns. If you have a question for Craig, please use the form below.