Holden, MA Buyer Agent
Catherine Taylor also serves homebuyers in Marlborough, Hudson, Boylston and Northborough.
Attorney Catherine Taylor is an exclusive buyer agent who works from Holden, Massachusetts.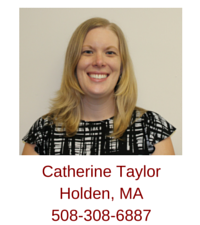 Catherine provides homebuyer representation services to first-time home buyers and those experienced in purchasing real estate in Holden, MA, as well as surrounding communities in MetroWest and Central Massachusetts, including Marlborough, Northborough, Hudson and Boylston.
You can reach Catherine by email, or by calling her mobile phone (508-308-6887) in order to schedule a personal homebuyer consultation. Catherine will discuss your home search, explain the home-buying process and answer all your real estate questions. She will meet you at her Holden office, or at a location that is more convenient for you.
Catherine, a licensed real estate broker in Massachusetts, is a member of the National Association of Exclusive Buyer Agents. She also is a member of the Massachusetts Association of REALTORS, the REALTOR Association of Central Massachusetts and the National Association of REALTORS.
Catherine received her Bachelor's of Science degree in Criminal Justice from Pace University in 2006. Prior to pursuing her law degree at New England School of Law in Boston, she worked as a legal assistant in Connecticut and Virginia, while her husband completed his service in the United States Navy.
Catherine has been living in Marlborough since 2008 when she and her husband purchased their first home together. Catherine graduated cum laude from New England School of Law in 2011, and she is licensed to practice law in the Commonwealth of Massachusetts. She has successfully run her own law practice focusing on domestic relations and estate planning.
Outside of the office, Catherine is the Secretary for the Board of Directors for the Cottage Children's Center in Marlborough and enjoys playing with her two children, running, baking and taking her dog on long walks.
Catherine can be reached by email, or by calling her mobile (508) 308-6887. Fill out the form below to see the latest, accurate real estate listings in Holden, MA; Marlborough, MA; Northborough, MA; Boylston, MA; Hudson, MA and surrounding communities.
What Home Buyers Say About Catherine Taylor
Client: Mark C.
"Rich and Catherine were both a pleasure to work with - knowledgeable and well able to guide us through looking for a house. We found their patience and responsiveness made the overall process a lot less stressful than it would otherwise have been and would absolutely recommend them to other prospective house buyers."
Bought: Single-family Home in Milford, MA