NH Buyer Agent Derek Durbin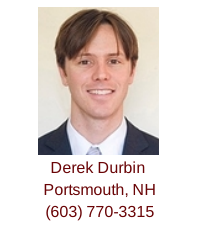 Attorney Derek Durbin is an exclusive buyer agent, with an office located in Portsmouth, New Hampshire.
Derek helps first-time and experienced home buyers purchase properties in Portsmouth, NH and surrounding communities, including Rye, Hampton, Greenland, Dover, New Castle, Durham, Newmarket and Seabrook. Search for New Hampshire Seacoast homes for sale on the multiple listing service and sign up for your own free MLS account at MLS Property Finder.
Derek can be reached using email or by calling his mobile (603-770-3315).
Derek is a licensed Real Estate Agent in New Hampshire, a member of the National Association of Exclusive Buyer Agents, National Association of REALTORS®, New Hampshire Association of REALTORS® and Seacoast Board of Realtors.
Derek graduated from Vermont Law School with a joint Juris Doctor and Master's of Studies in Environmental Law degree in 2005. Derek is currently admitted to practice in the New Hampshire Federal District Court, New Hampshire state courts, New Hampshire Federal Bankruptcy Court and Massachusetts state courts. Derek concentrates his law practice in land use/zoning, real estate, and environmental law. He was responsible for drafting and lobbying several of the state's major water laws, including significant portions of the NH Comprehensive Shoreland Protection Act.
Derek is actively involved in the Seacoast community where he served on the Portsmouth Zoning Board of Adjustment and is the Chairman of the Board of Directors for the New Hampshire Coastal Protection Partnership ("NH Coast").
In his free time, you'll find him outdoors enjoying either surfing some of New Hampshire's or Southern Maine's point breaks or exploring the region's backcountry.
Derek can be reached using email or by calling his mobile (603-770-3315). Fill out the form below to see the latest listings in Portsmouth, NH; Rye, NH; Hampton, NH; Greenland, NH; Durham, NH; Dover, NH; New Castle, NH; Newmarket, NH; Seabrook, NH and other Rockingham County and Strafford County Communities.
What Home Buyers Say About Derek Durbin
Client: Chris B.
"Derek Durbin is a rock star, a true pro, well educated and very personable! Right away I knew I could not deal with the seller's agent, so I did some research and had looked at Redfin and your site. Derek called me the first day I contacted BBO, and was great through the whole process, and I would probably not buy a home again without him or your company. His customer service was an 11 out of 10. I also felt that he was very thorough, and I could pick up the phone or email him and get an answer in less than an hour, and I had many since we were buying a foreclosure. I felt great about having an attorney help me understand the potential issues."
Bought: Single-family Home in Seabrook, NH
Client: Cheryl S.
"[What did you value most about our service?:] Having representation that was strictly for me, the buyer. Derek was my buyer broker, he was amazing and someone I would seek out in the future and refer to my friends and colleagues."
Bought: Single-family Home in Somersworth, NH