Brookline, MA Real Estate Buyer Agent
Ariana Kushak also serves homebuyers in Watertown, Newton and surrounding communities
Attorney Ariana Kushak helps first-time homebuyers, as well as those who are more experienced in buying real estate, in Brookline, Massachusetts, as well as surrounding cities and towns, including Newton, Waltham, Watertown and Cambridge. Ariana assists in the purchase of single-family houses, condominiums and multi-family homes.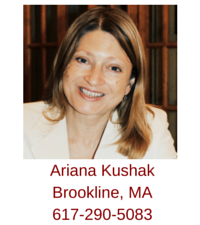 You can reach Ariana by email, or by calling her mobile phone (617-290-5083) in order to schedule a personal homebuyer consultation. Ariana will discuss your home search, including your wants and needs, explain patiently and in great detail the home-buying process from financing through closing and answer all your questions at a location that is convenient for you. She is always willing to go the extra mile to ensure her clients are comfortable with the process and their decisions.
A licensed real estate broker in Massachusetts who exclusively represents homebuyers, Ariana is a member of the National Association of Exclusive Buyer Agents, Greater Boston Association of REALTORS, Massachusetts Association of REALTORS and National Association of REALTORS.
Ariana is a graduate of Brandeis University, where she obtained a Bachelor's of Arts degree in French Language and Literature, and she holds a Juris Doctor degree from Suffolk University Law School. She is an attorney licensed to practice in all Massachusetts courts. Her legal experience includes family law issues, wills, trusts, estate planning and civil litigation, including probate litigation. Ariana has been a volunteer attorney with Volunteer Lawyers Project of the Boston Bar Association.
Ariana is a resident of Watertown and has an office in Brookline. She knows first hand from her own home-buying experience in Watertown how difficult and confusing the process can be without professional guidance.
Ariana grew up in Riga, Latvia and is multilingual. She would be happy to help homebuyers speaking French, Russian, Latvian and Italian.
Besides law and real estate, Ariana is interested in the arts, history, literature and travel. She has a rescue Himalayan cat who came to her from a shelter. He is aptly named Yoda, due to having funny looking fur sticking out on his ear-tips that make him resemble the eponymous character in the Star Wars saga.
Ariana can be reached by email, or by calling her mobile, (617-290-5083). You also can fill out the form below to contact her or to see the latest listings in Brookline, MA; Waltham, MA; Newton, MA; Watertown, MA; Cambridge, MA; and other surrounding communities.