Plymouth, MA Buyer Agent
Erin Semcken also serves homebuyers in Middleborough, Kingston, Carver and Plympton.
Attorney Erin Semcken is an exclusive buyer agent who works from Plymouth, Massachusetts.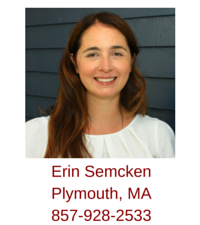 Erin provides homebuyer representation services to first-time home buyers and those experienced in purchasing real estate in Plymouth, MA, as well as Middleborough, Kingston, Carver, Plympton and surrounding Plymouth County and upper Cape Cod communities.
You can reach Erin by email, or by calling her mobile phone (857-928-2533) in order to schedule a personal homebuyer consultation. Erin will discuss your home search, explain the home-buying process and answer all your real estate questions. She will meet you in Plymouth, MA, or at a location that is more convenient for you.
Erin, a licensed real estate broker in Massachusetts, is a member of the National Association of Exclusive Buyer Agents. She also is a member of the Massachusetts Association of REALTORS, Cape Cod & Islands Association of REALTORS and the National Association of REALTORS.
Erin obtained her Bachelor's of Science degree in chemical engineering in 1998 from Rensselaer Polytechnic Institute. After a decade of working in the pharmaceutical industry, Erin began studying law and obtained her Juris Doctor degree from the University of Massachusetts School of Law in 2010. She is admitted to practice law in the Commonwealth of Massachusetts and in the United States District Court for Massachusetts.
Following law school Erin was awarded a fellowship and worked as a law clerk to the Justices of the Massachusetts Superior Court. In 2011, she formed her own law practice with offices in Bourne and Plymouth. Erin specializes in bankruptcy, real estate and small business formation. Her portfolio of real estate transactions also includes successful closings for a multitude of complex short sales. In 2013, Erin also became a real estate broker for a local realty company and closed a number of transactions for properties in Plymouth and Barnstable counties during her time with that company.
Erin grew up in Hudson, Massachusetts, and she and her family currently live in downtown Plymouth, Massachusetts.
Erin can be reached by email, or by calling her mobile (857) 928-2533. Fill out the form below to see the latest, accurate real estate listings in Plymouth, MA; Middleborough, MA; Carver, MA; Kingston, MA; Plympton, MA and surrounding communities.
What Home Buyers Say About Erin Semcken
Client: Erik H. & Amanda H.
"My wife and I had the pleasure of working with Erin Semcken of Buyers Brokers Only. Being first time homeowners, Erin helped to make the process as painless as possible. She was knowledgeable about the area and was such a pleasure to work with. Regardless of where the houses were that we were interested in seeing and no matter how far, Erin consistently delivered and was able to help with countless showings. When it seemed that finding the perfect house was never going to happen, she was able to help us keep our spirits high and out of nowhere, our new home hit the market and we offered within a few days. With as crazy as the housing market is right now, it was great to have an experienced real estate broker like Erin showing us the ropes and looking out for our every need. My wife and I highly recommend working with Erin if you are in the Plymouth area... you will not be disappointed."
Bought: Single-family Home in Plymouth, MA