Norwell, MA Real Estate Buyer Agent
Mike Lord also helps homebuyers in Pembroke, Hanover, Marshfield, and Hingham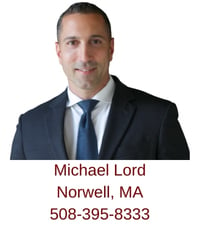 Attorney Michael Lord is an exclusive buyer agent who works from Norwell, Massachusetts. He helps home buyers purchase property in Norwell, Pembroke, Hanover, Marshfield, Hingham, and surrounding Plymouth County and South Shore communities.
Mike can be reached using email or by calling his mobile (508-395-8333).
Mike, a licensed real estate broker in Massachusetts, is a member of the National Association of Exclusive Buyer Agents. He also is a member of the Massachusetts Association of Realtors, Greater Boston Association of Realtors, and the National Association of Realtors.
Raised in Medfield, spent summers on Cape Cod, and a lifelong Massachusetts resident, Mike received his Bachelor of Arts Degree from the University of Massachusetts in Amherst. A licensed attorney at the state and federal level in the Commonwealth of Massachusetts, he earned his Juris Doctor Degree from Massachusetts School of Law in Andover.
Mike has had an extensive career in real estate as a passionate exclusive buyer agent and knowledgeable licensed attorney since 2007. Having closed thousands of real estate transactions, he has honed his skills as an effective negotiator, advocate, and communicator. With 14 years focused on real estate, he has a wealth of experiences to utilize when calmly and patiently supporting and advising his home-buying clients.
Mike joined Femion Mezini, the nation's No. 1 producing exclusive buyer agent in the United States, to form The Mezini Team. Their team now covers more of the Greater Boston real estate market, with decreased response times to client inquiries, providing an overall more efficient service for their clients.
When he isn't helping his clients buy houses, condominiums, and multi-family homes, Mike enjoys exercising, traveling, exploring beaches, and most of all spending time with his wife and three children. He currently resides in Norwell, Massachusetts.
Mike can be reached using email or by calling his mobile (508-395-8333). Fill out the form below to connect with Mike and ask any home-buying questions.
What Home Buyers Say About Mike Lord
Client: Dorota M.
"Mike Lord, a broker with Buyers Brokers Only helped us find our new home. We purchased a condo in Brookline, looked in Brookline, Newton, West Roxbury. His incredible efficiency helped us get a place in this market of high prices and low inventory. Mike was also extremely helpful throughout the buying process, communicating with the seller's agent and attorneys and staying on top of getting the required docs in time. Mike is very responsive, efficient, and kind. He listens to what the buyer is looking for, he will work with your budget, and he has good knowledge of the Greater Boston market. He was present throughout the whole buying process, making sure all the docs were there for the closing. The best buyer broker we have worked with!"
Client: Ana P. M.
"It may seem cliche to say that Mike is wonderful to work with, but if you're searching for a home, you couldn't have a better ally to guide you. Not only is he knowledgeable, but also very understanding and amiable. He helped me find my dream house. I wasn't an easy customer because I didn't want to settle for less than what I truly desired and looked for almost a year. I always found him to be patient and supportive."
Client: Jason L.
"Mike Lord is simply amazing!! I ran into several complications (none of which were the fault of Mike) and he helped me through it all!! I had a very tight timeline and Mike worked tirelessly to help me reach my goal (which we did!!) I spent the better part of three months with Mike looking at over 30 properties until I finally found the one. Mike knows his stuff and went above and beyond what he was obligated to do. Not only is mike great at what he does I feel I gained a friend in the process as well. Even after everything was said and done Mike still checks in on me and my family. I couldn't have done it without him. If you're in the market to buy a house my first call would be to Buyers Brokers LLC and get Mike Lord on your team!!! Trust me it will be the best decision you make in the home buying process!"
Client: Srini S.
"Mike Lord was our broker and he was very friendly and approachable. Mike gave us a complete debriefing about the home-buying process and encouraged us to do our own research. The most commendable aspect of Mike is that there was no pressure from him about putting in an offer and about settling on a property that we were not completely satisfied with. Mike had the foresight to even sway us away from properties that we loved, but which we would perhaps have outgrown in the future. The other aspect is his patience, both in answering multiple repeated questions and in contacting town authorities for issues regarding water restriction, septic systems, and easements."
Client: John P.
"If you're buying a home, do yourself a favor — don't waste your time dealing with the traditional real estate agent. Contact BBO — in particular Mike Lord — and let them work on getting you into a new home. Mike and BBO just helped us find and close on our new home. This is our third home purchase and it's the first time I felt like I had a partner in the process. Mike and BBO not only provide excellent real estate services, but their background in real estate law makes them an asset you simply can't afford to do without. Every correspondence was answered in a timely, thoughtful, and informative manner. Every situation was handled promptly and professionally. And at every turn, I genuinely felt that Mike and BBO had only our best interests at heart. And as if that wasn't good enough, Mike Lord is just a wonderful person to deal with. We can't say enough good things about Mike Lord and BBO."
Client: Mabel S.
"If you're looking to buy in the Boston area, I highly recommend Mike Lord. My husband and I were overwhelmed first-time home-buyers and our experience was a million times easier once we began working with Mike! Mike guided us through the home buying process with excellent advice and information and was very knowledgeable about Boston-area burbs when my husband and I weren't sure where to focus our search. We appreciated how timely Mike was with answering all of our questions, and the excellent references he provided for everything. It was a pleasure to look at houses with Mike and know that we were getting an experienced, honest opinion and sound advice. Throughout the whole process, my husband and I never felt rushed and were extremely comfortable with Mike's guidance. I'd highly recommend him to anyone looking to buy a home in the Boston area."